Small wedding ideas and how to find the perfect small wedding venue
Here at The Connaught Hotel and Spa we've been hosting small weddings in Bournemouth for as long as we have provided a place for guests to lay their heads at night.
We wanted to share some of the benefits of a gorgeously romantic small wedding. As well as some intimate wedding ideas that you may not have thought of.
---
Why have a small wedding?
There have been many fashionable terms for small weddings over the years – 'micro weddings' or 'intimate weddings'. And most recently afternoon tea weddings have become a hugely popular alternative to a traditional 'big white wedding' as it works well with smaller numbers.
Whatever you want to call it, if you're wondering why have a small wedding, here's just a few of the reasons.
1. SAVE MONEY
Having a small guest list will mean your wedding budget will be a lot smaller than you initially planned for.
This gives you so many more options – you can spend more on your guests per head or splash the cash on everything else (the cake, the dress, transport or flowers). How about choosing a wedding venue you wouldn't otherwise be able to afford, or have the 'money can't buy' once in a lifetime honeymoon that you didn't think you could.
2. SPEND MORE TIME WITH YOUR GUESTS
We don't have the exact number, but we'd guess that about 99% of our wedded couples would say they didn't get to spend as much time as they wanted with guests on their wedding day.
There's always so much going on, it can feel almost impossible to have any meaningful conversations on the day.
One of the benefits of a small wedding is that it will be a much less manic day. You'll have a lot more time with your guests and be able truly show them how much you appreciate them being there to celebrate your wedding day with you.
3. LESS STRESS
There is a certain amount of stress that you won't be able to avoid – it is your wedding day after all!
However, with fewer guests to look after, you'll have additional time to think about how to make them part of the day.
Small weddings always feel so much more personal, so why not customise everything from napkins to your decorations if you want to! Handwritten notes and personalised gifts are something most people only dream of having time to prepare for a big wedding! The options really are endless.
4. CREATE A TOTALLY BESPOKE AND INTIMATE DAY
Having a small guest list also gives you so many more options for your wedding venue. Think restaurants, galleries, libraries, gardens, or even a family home (not forgetting hotels)!
Why not pick somewhere totally bespoke to the two of you such as the place you first met or had your first date? There is something really special about an intimate wedding in a location which is meaningful to the couple.
Think about the type of wedding you want, how easy it will be to have everything you need on the day in terms of décor, food, drinks and how much flexibility your chosen wedding venue will provide.
---
Small wedding ideas and top tips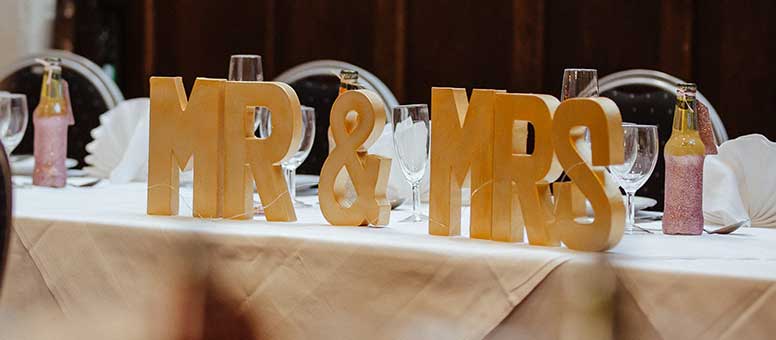 We've put together a list of our best small wedding ideas, plus some top tips to help you make your intimate wedding a huge success.
1. CHOOSE THE RIGHT WEDDING VENUE
Our first low key wedding idea is to really think about your wedding venue as it needs to suit the size of your guest list. Too big or too small and you will likely not have the atmosphere of you wanted.
Luckily you're spoilt for choice with wedding venues in the UK and you can totally think outside the box.
The Connaught Hotel and Spa Bournemouth has several wedding rooms of varying sizes so you can choose the room that feels right for you. Along with the added benefit of an expert wedding team at your beck and call.
Not to mention a place for you and your guests to sleep, and a luxury spa and swimming pool for you all to enjoy the next day!
2. TRY NOT TO STRESS TOO MUCH ABOUT THE GUEST LIST
One of the first things you'll be thinking about for a small wedding is the guest list, but please try not to stress about it too much.
As your intimate wedding will likely just include immediate family and closest friends only, you can say no to plus ones and children without causing any offence.
3. THINK ABOUT WHAT YOU REALLY WANT AND WHAT'S IMPORTANT
One of our favourite small wedding ideas is to make sure you spend your money on the things that are really important to the two of you as a couple. Having fewer guests and a bigger budget means you can really focus on how to enhance your wedding day.
Whether that's live music, upgraded meal and drink options, arriving in style in a classic car, or a videographer and photographer to truly capture the intimacy and beauty of your perfect small wedding.
4. ENSURE YOUR WEDDING COORDINATOR IS FULLY BRIEFED
Whether you hire an external wedding coordinator or will be using the one from your wedding venue, make sure they know where everything is for the day – background music, wedding favours, decorations and so on.
With fewer guests and bridesmaids/best men, their lack of presence will be more noticeable if they're missing for hours trying to find things!
If you're getting married at an experienced small wedding venue such as The Connaught Hotel and Spa you'll be in great hands – we've hosted hundreds of weddings! Just make sure you let everyone know what you want!
5. CONSIDER A WEEKDAY WEDDING
So, you've already saved on guest numbers – why not save more by having a weekday wedding?
It's likely that your smaller guest list will have more flexibility to take time off work, and many wedding venues (including The Connaught Hotel and Spa) will offer discounts for weekday weddings.
You may also get better availability from other wedding suppliers so you'll be able to have exactly who you want for your dream day.
6. THOW OUT THE RULE BOOK
Wedding reception ideas for small weddings are endless – especially now. Your guests are unlikely to have the expectations they would for a traditional and larger wedding, so why not have fun with it?
You could create a video to play in the background during your wedding breakfast. How about an early wedding ceremony followed by a wedding brunch? Or an afternoon tea wedding.
The point is it's your day – don't worry about what happens traditionally, so why not create a 'new norm'?
---
Discover Connaught Weddings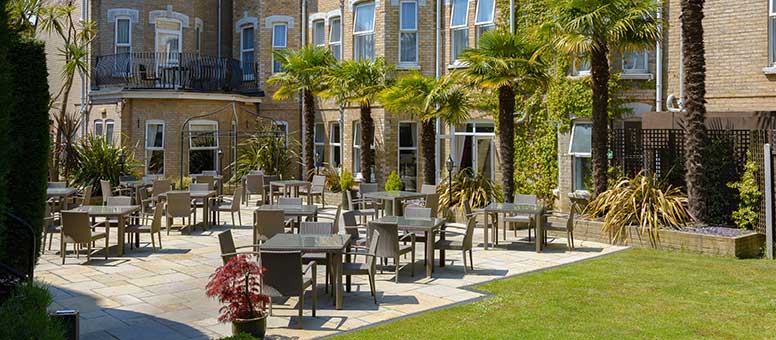 We hope that you've enjoyed reading about the benefits of a small wedding, and that our small wedding ideas have helped you feel more positive about what's possible if you decide to have an intimate wedding.
For more details on weddings at The Connaught Hotel and Spa Bournemouth, to book a show-around or if you just need a little advice from a friendly ear, why not contact our experienced wedding team on 01202 298020 or get in touch with our online enquiry form.