It's not every day that you host your own afternoon tea party at home.
So why not go all out and make yours the best afternoon tea party ever!
Our expert pastry chef here at The Connaught Hotel and Spa Bournemouth has put this guide together for you with everything you need to know. Enjoy!
---
Everything Starts With a Plan
If you want to have a successful DIY afternoon tea party, you'll need to start researching afternoon tea party ideas.
Is there a particular celebration at hand?
– Mother's Day
– Birthday
– Baby shower…
Or are you going for a theme?
– Easter afternoon tea party
– Spooky Halloween theme
– Spring has sprung…
Or maybe you could be a little quirky and host a Mad Hatter's Tea Party! There are so many fun afternoon tea ideas to choose from.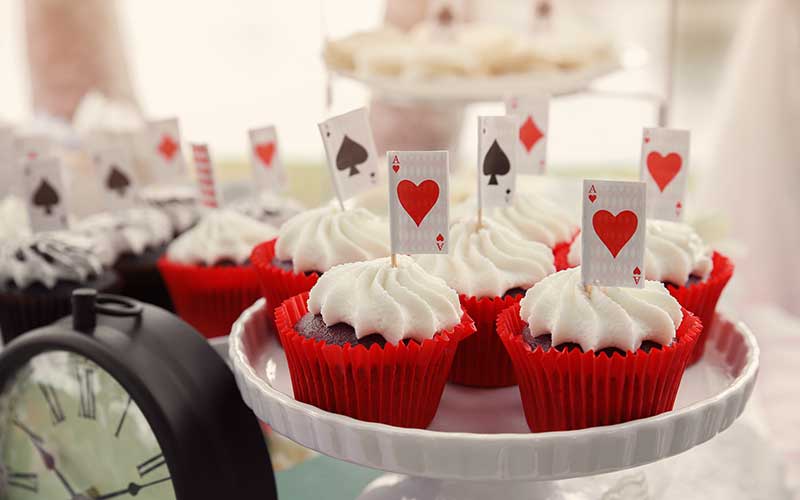 Another question to ask yourself is whether your afternoon tea party is going to be a formal affair or whether it's going to be casual and informal? If it's going to be formal, what is the dress code?
Figure out all these details before you make your first moves.

---
Where is The Best Spot?
Where is the ideal place within your home to host your afternoon tea party?
Are you going to have it inside or or head outdoors?
If you're opting for an afternoon tea garden party, why not hire a gazebo or a marquee to weatherproof your event? That would be a wonderful touch and would really add a hint of sophistication.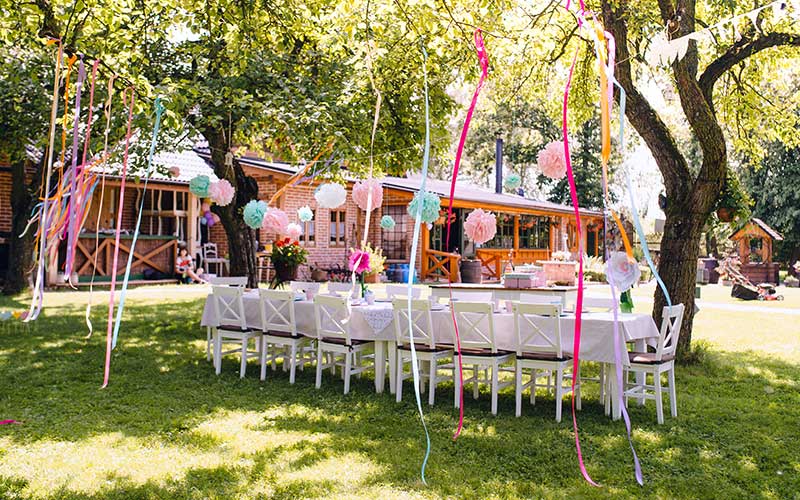 If you're going for indoors, which is the best room to hold it in? The conservatory? The dining room? The more fancy your room looks, the better.
And you need to have enough space for everyone to fit in comfortably and to be able to decorate a little, depending on your theme. We're thinking bunting at the very least!
The space where you host your afternoon tea party could really make or break your party so give this plenty of thought.

---
Get Creative With The Invitations
Once you've decided who to invite, it's time to send out some fancy invitations.
Head online and look for some options which are in-keeping with your theme. And if you can't find any, why not design your own invitations?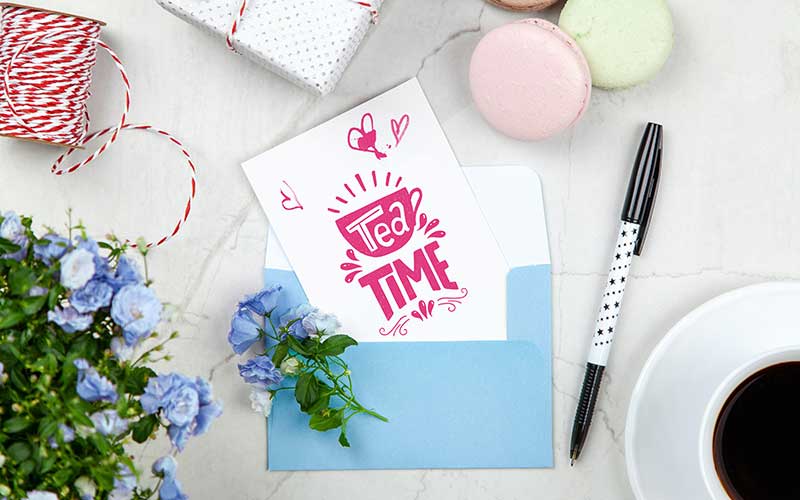 Canva is a great free tool for creating your own fancy artwork and it's really simple to use.
Poster My Wall is another great alternative for creating free afternoon tea party invitations.
Don't forget to include:
– Start and end time
– Details of a theme (if relevant)
– Dress code
– Your address
– Ask about allergies
– Ask for an RSVP (with your contact details)
You might also wish to confirm whether or not your guest may bring someone else.
After creating your invitation, proofread to check for spelling mistakes.
Then proofread again!

---
Time to Get Out Your Best China
Planning an afternoon tea party without fancy crockery? Forget it!
The whole point of hosting an afternoon tea party is that it's different. It's special. And it has that olde-worlde feel to it.
Put simply, everything needs to match. And that means dusting off your finest china and teapot.
If you don't have one, don't worry too much, you can find these very cheaply these days. And you can always make it an excuse to host regular afternoon tea parties at home, to get your money's worth!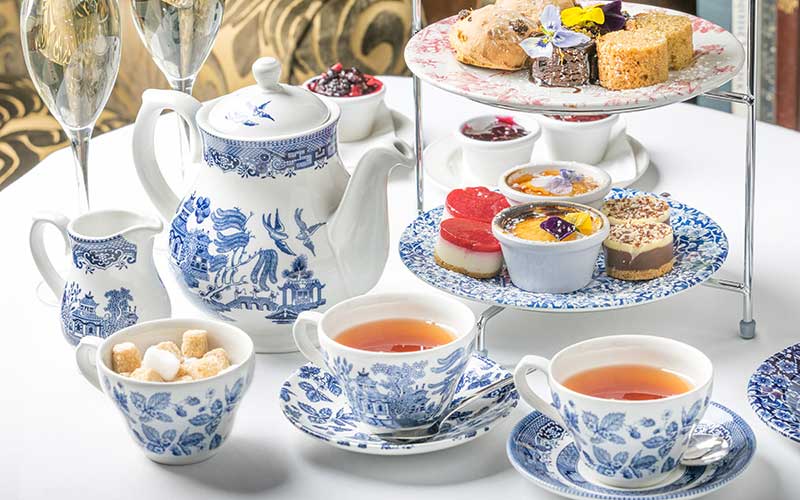 We'll cover how to lay out your table shortly, but here's what you'll need:
– A cake stand (three tiers looks best)
– Doilies
– A fancy tablecloth
– Matching cutlery
– Enough china cups for everyone and if you have them, matching saucers
– If you're serving bubbles, you'll need glass flutes (matching)
– Small serving plates
– Serviettes
If you're serving your food outside, you might want to invest in a plastic or glass cover for your plates, to stop flies landing on your sandwiches!

---
What to Serve For Afternoon Tea
Every afternoon tea is unique in its own way theme-wise. But if you want to stick to traditional (always a good idea), then you'll need to include the basics when it comes to food and drinks.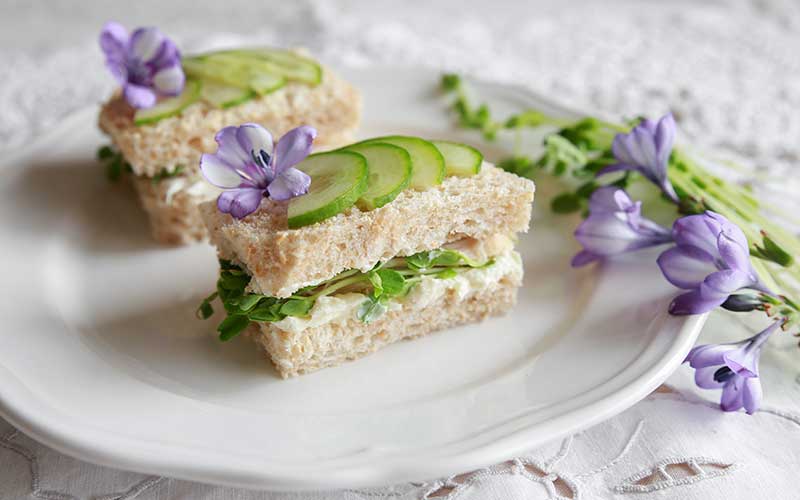 Sandwiches
Triangular or finger sandwiches with the crusts cut off are without a doubt one of the most famous of all afternoon tea foods!
Fillings-wise, there are so many options and it really comes down to personal preference.
Here's some of our favourite afternoon tea sandwich ideas:
– Cucumber sandwiches
– Ham sandwiches
– Smoked salmon sandwiches
– Hard-boiled egg sandwiches (not the best in the height of summer however)
– Roast beef sandwiches
– Cream cheese sandwiches.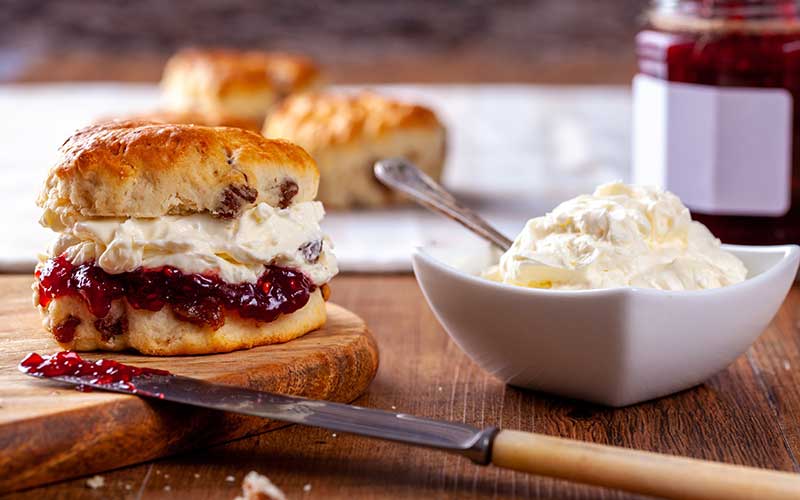 Scones
Scones are an afternoon tea staple and something you need to have. Alongside the fruity scones you'll need jam, butter and cream.
Serve these in small silver serving bowls to really add extra fancy to your menu.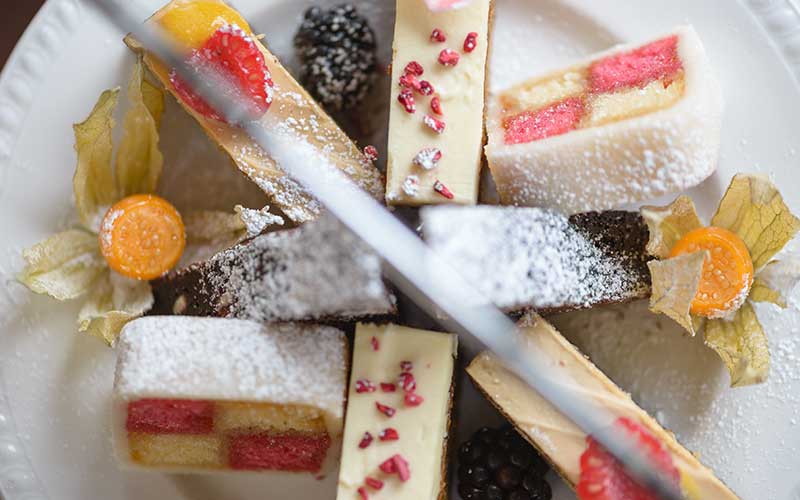 Cakes and Pastries
There are so many cake options when hosting an afternoon tea party at home. French fancies are a definite must-have! Who doesn't love a French fancy?!
Also, think about things like:
– Small muffins
– Tiny tea cakes
– Battenberg cake
– Small strawberry flans
– Tiny chocolate or cream slices.
The idea is that every cake or pastry you serve must be small and easy to grab and eat with the hands. Yes, afternoon tea is fancy, but you don't tend to cut up the cake to eat it!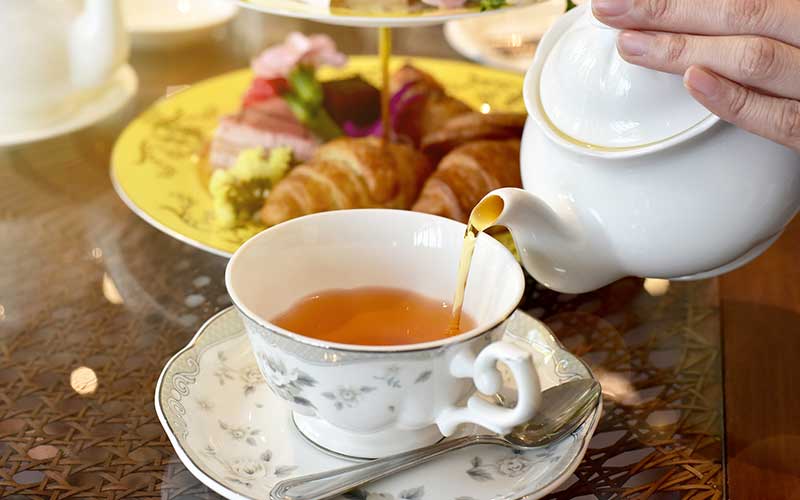 Drinks
The most common drink is in the title – tea. However, this doesn't mean buying a bulk box of PG Tips and dunking them.
It means loose tea leaves and a fancy teapot.
If you've never used a teapot and loose leaves before, have a practice beforehand so you don't end up serving everyone a cup of leaves!
The secret is a small strainer. If you want to go extra special, seek out some Earl Grey.
However, despite the fact that afternoon tea has the word 'tea' in it, that doesn't mean you have to stick to tea.
Whether you're celebrating something or not, bubbles are always a good idea!
Prosecco is a good choice as it's light and has that bubbly, special feel to it. If you're serving bubbles, remember glass flutes and always have tea on hand for those who don't want alcohol.

---
Afternoon Tea Etiquette
Before your party, you need to brush up on your knowledge of afternoon tea party etiquette to really set the scene in the best possible way. As the host, you should lead the way!
Etiquette is what makes afternoon tea parties extra special and makes them stand out above a regular tea party.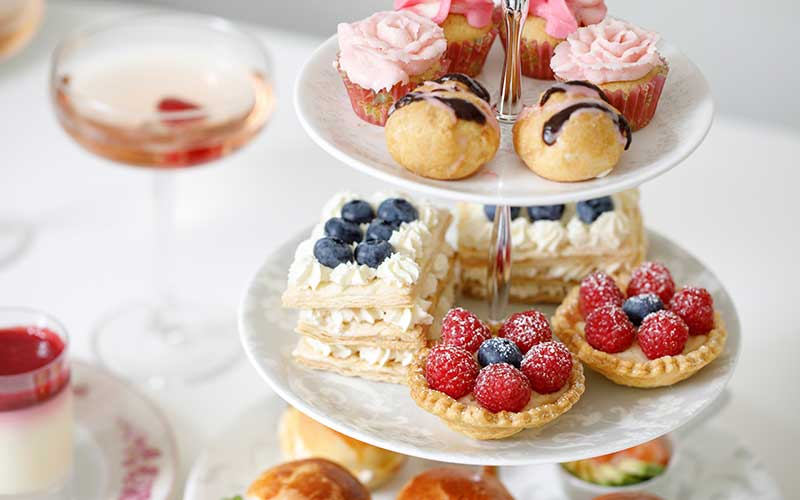 So, what are our top tips for afternoon tea etiquette?
1. Leave a napkin folded at each place setting
2. Place sugar cubes in the teacup first, pour the tea, and then add the milk. When stirring, don't allow the spoon to touch the sides. Then place the spoon on the saucer.
3. Whilst your guests may choose to eat afternoon tea in their own unique way, the traditional order is sandwiches and savouries, scones and then cakes
4. Speaking of scones, there is a lot of debate over whether you should add the cream first or the jam. This all comes down to superstition and depends on whether you're on the side of the Cornish or those from Devon! The Cornish way is jam and then cream. The Devon way is cream and then jam. It's a fun thing to talk to your guests about!

---
How to Set a Table For Afternoon Tea
Decorating a table for afternoon tea is actually pretty quick and easy. Remember to go for a three-tiered tray for your sandwiches and cakes as this makes it easy to move around and also looks seriously impressive!
You should also opt for a crisp, clean tablecloth. Perhaps with a lace edge to add a little more sophistication.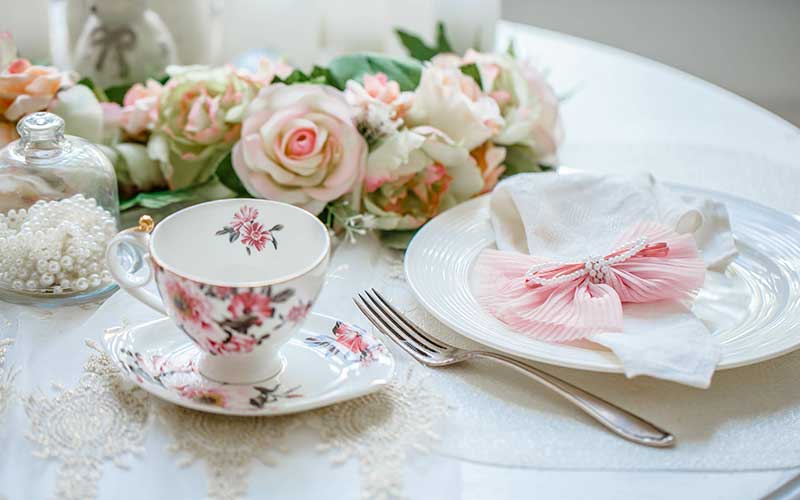 Here's our cheat-sheet on how to dress a table for afternoon tea:
– Small dessert place for each setting, placed in the middle of where they will sit
– Small fork placed to the left of the dessert plate
– Small knife placed to the right of the dessert plate
– Teacup with a saucer, placed to the right of the dessert plate
– A teaspoon on the saucer, placed at the 10 o'clock position
– A folded napkin next to the fork
– The serving platter and the teacup should be in the centre of the table
You'll find plenty of afternoon tea presentation ideas online, just google it and scroll through the images. Or Pinterest can be another great source of inspiration.

---
Prepare Your Food to Impress
Homemade afternoon tea party menus can be as fancy or as simple as you want them to be. The key is to present the whole experience in a way which takes it to another level.
By doing that, you can serve the simplest of sandwiches and your guests will think they're dining with royalty!
Let's look at each area in turn and show you how to prepare your afternoon tea to impress.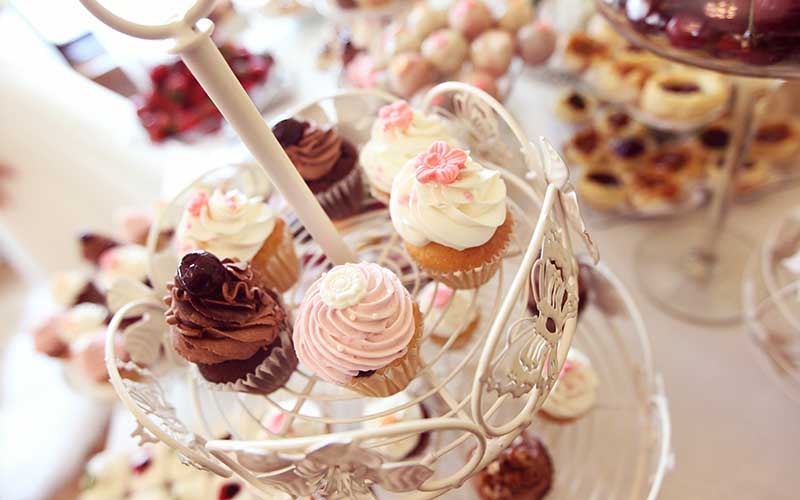 Savouries – Sandwiches can be made the day before to save time on the day of your afternoon tea party. Store them in an airtight container with a sheet of wax paper and damp paper towel over the top to keep them from drying out.
If you're serving other savouries, such as scotch eggs, these can usually be bought in serving platters and kept in the fridge. You then simply need to take them out and arrange them on your own serving platter ahead of time.
Pastries and Cakes – Make them yourself or buy them in? That's a personal decision and totally depends on how long you have. However, making them yourself would add a really personal touch to your event.
Scones – The good news is that scones are oh-so-easy to make and you can bake a large batch. All you need then is your jam, butter and cream, which can of course be store-bought.
Scones are best eaten on the day that they are baked or the day after at the very latest if stored in an air-tight container.
Tea – A pot of tea is really easy to make and can be done just before serving. Simply make sure you have enough tea to go around, for a few cups per person.
Check out BBC Good Food if you're looking for some interesting ideas on how to prepare afternoon tea and to see lots of different ideas for recipes.
---
It's Time to Get Started!
Organising a DIY afternoon tea is so rewarding and your event will be remembered by your friends for many years to come.
And when hosting an afternoon tea party at home isn't an option, why not head to the south coast and enjoy a luxurious AA Rosette dining experience at The Connaught Hotel and Spa in Bournemouth?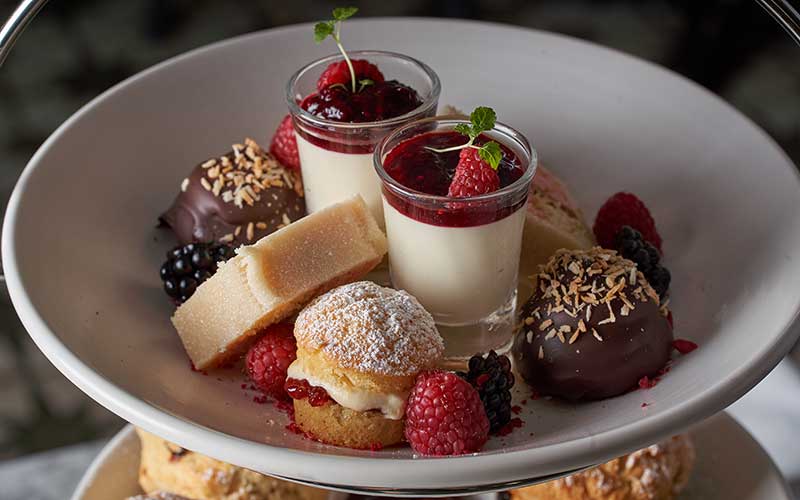 It will be a truly unique afternoon out, in a hotel that is more than 150 years old and packed with tradition.
Isn't that what afternoon tea is really all about?
So, whether you're planning an afternoon tea party at home or joining us in Bournemouth, we hope that you've enjoyed reading our homemade afternoon tea ideas.