One of the first big decisions after getting engaged is choosing what month you'd like to get married. Weather plays a part, but there are many other factors at play too.
Don't worry, our expert wedding coordinator Chloe is here to help!
Here's a quick summary, but keep on reading to learn more about the best months to get married in the UK.
January – A great way to cheer up a quiet month
February – The month of love!
March – Spring means beautiful wedding snaps
April – Reliable spring weather
May – Beautiful late spring days with all the blooms
June – Fantastic honeymoon opportunities
July – Perfect for an outdoor wedding party
August – Traditional, British weddings
September – Fantastic soft light for your photos
October – Beautiful autumnal backdrops
November – Festive feel at super low prices
December – It's party season!
---
JANUARY – A NEW YEAR, A NEW START
Not the most popular month to get married, but there are a few perks for choosing January for your wedding.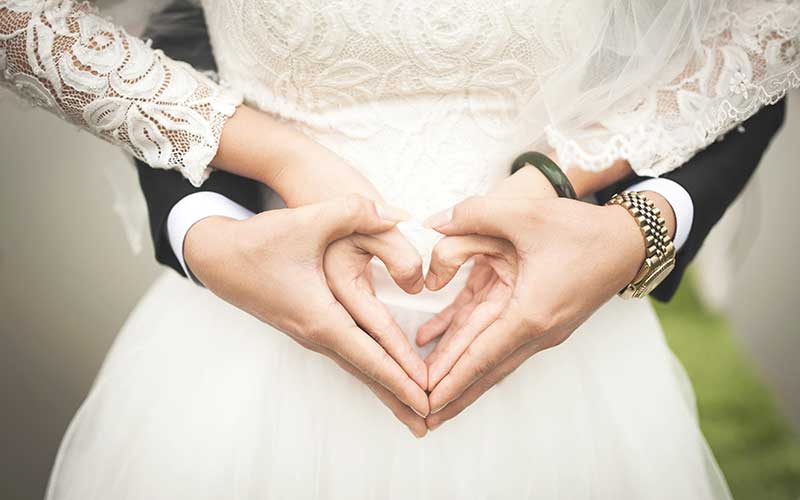 Pros:
– Start the year as you mean to go on; celebrating your love
– January is a cheap month to get married and you'll have the choice of all your wedding suppliers
– Your guests should be available as people rarely go away in January
Cons:
– January weather can be very chilly so your wedding will certainly be an indoor function. However, unless you have your heart set on an outdoor wedding, this may not bother you.
---
FEBRUARY – LET CUPID CELEBRATE WITH YOU
As far as romantic months go, you can't beat February. You can choose to get married on Valentine's Day itself if you want to, but even if you avoid it, February is known for being a month oozing with love.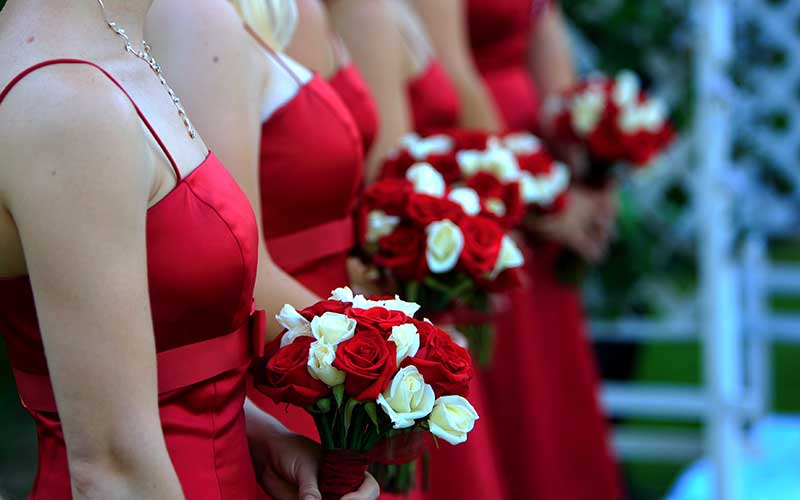 Pros:
– Avoid Valentine's Day itself and February is one of the cheapest months to get married
– Guests tend to be a little more cheerful and less cash-strapped to attend a wedding now that January has passed
– Is there a more romantic day to get married than Valentine's Day?
Cons:
– February weather can be extremely unpredictable
---
MARCH – NEW BEGINNINGS AWAKEN
A new season is beginning in the UK and that means warmer weather and the chance to perhaps get outside for some beautiful spring wedding photographs. March is without a doubt one of the best months to get married.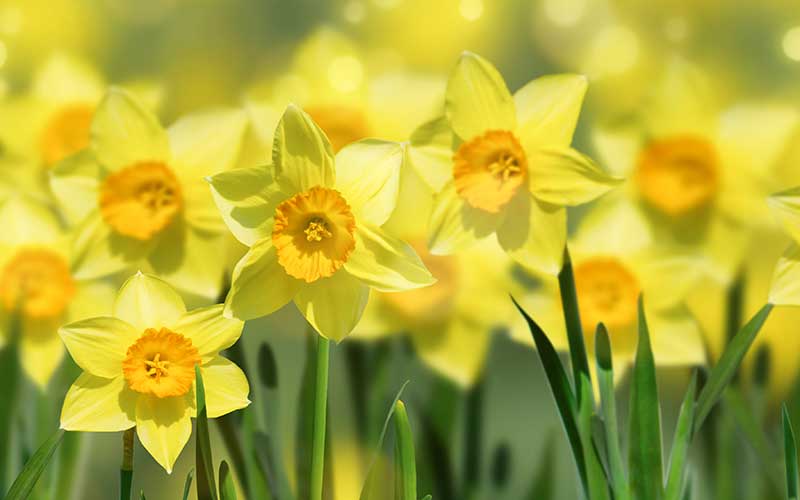 Pros:
– Spring means new beginnings and that's a wonderful theme to put on your wedding day – ideal for looking back with a smile!
– Wedding suppliers and wedding venues still tend to have a lot of availability at this time of year
– Nature is blooming, especially towards the end of the month, so your photographs will be fantastic
Cons:
– Don't simply assume that spring means warmer days all the time. March isn't a very secure month for totally outdoor weddings and you'll still need an indoor option.
---
APRIL – A LOW COST MONTH WITH THE PERKS OF SPRING
Many people falsely believe that April showers mean this is the rainiest month of the year. But the majority of April is actually very pleasant and as you move towards the end of the month you can enjoy some beautiful warm days.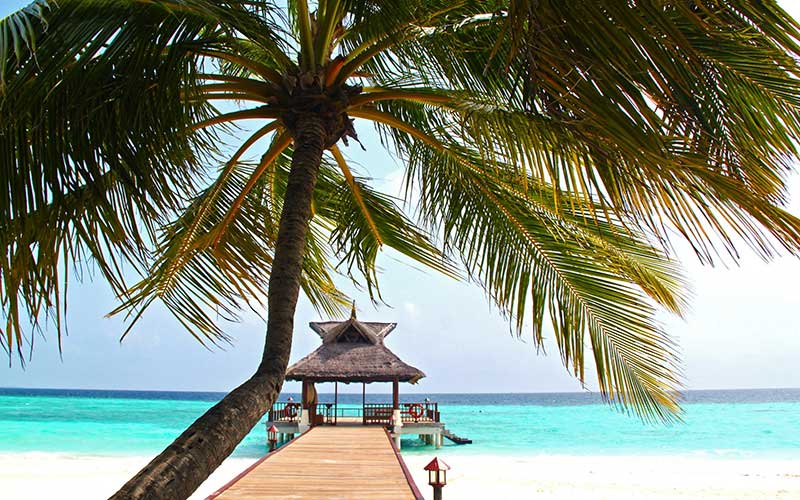 Pros:
– There are lots of amazing long-haul destinations for your honeymoon if you want the best of the weather. Europe is hotting up too!
– Low prices during April due to it still being part of the low season. And the weather is better so you're getting extra perks and saving money too
– The opportunity to have your wedding outdoors, especially if you choose the last two weeks of the month rather than the first two
Cons:
– Some people start to go away during the last couple of weeks of April as overseas holidays are cheaper. April may also include Easter and other religious holidays, which could affect the availability of your guests.
---
MAY – A STUNNING MONTH FOR A SPRING WEDDING
May is the ideal month to get married for many people as it's the start of the outdoor wedding season. You have a much better chance of a dry, warm, blue sky day during May.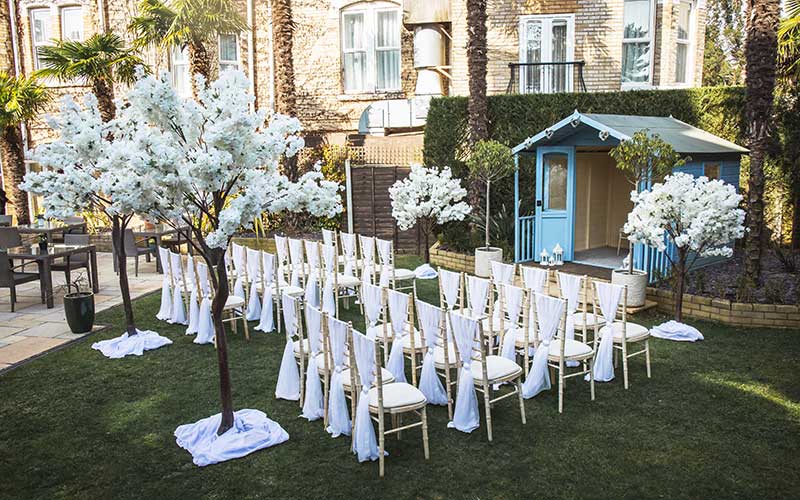 Pros:
– Outdoor weddings are possible during May while still benefiting from the beautiful scenery of late spring
– May means longer days and lighter nights so your entire day will be a true celebration to remember for the right reasons
– Realistically, May is the last month to save cash on your wedding as it is still considered low season by many wedding venues and suppliers
Cons:
– There may be less availability for wedding venues and suppliers during May onwards which means you need to book your wedding a little further ahead of time.
---
JUNE – SUMMER WITHOUT THE HEAT!
June is usually a warm, sunny and beautiful month. Perfect for your wedding day.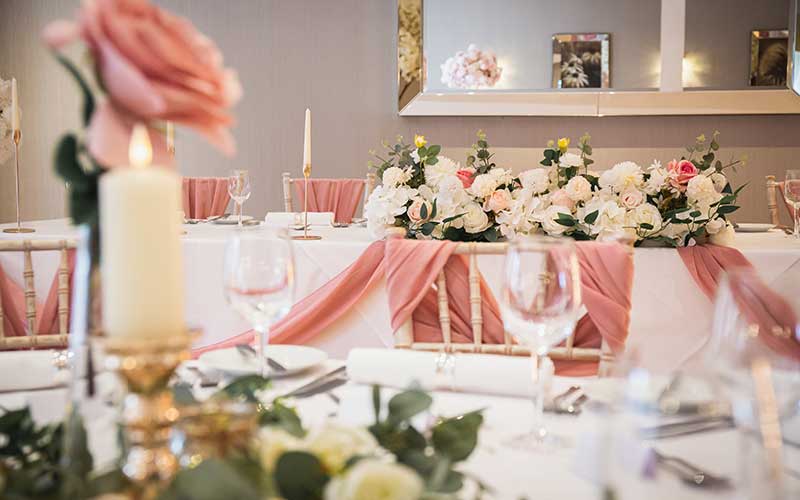 Pros:
– All the perks of summer with slightly lower temperatures and therefore a greater comfort level
– June offers plenty of choices for honeymoons, whether you want to stay in Europe or jet off somewhere exotic (probably the last month before monsoon season/hurricane/typhoon season)
– If you're a superstitious couple, they say that June is a lucky month to get married
Cons:
– You may find that guest availability is an issue during June. Some people choose to jet off for a summer break before the peak months kick in. June is also a month of sporting events and even music festivals.
---
JULY – HIGH SEASON AND SUMMER VIBES
July is one of the most popular months to get married as it's the start of summer – the best time of year for outdoor weddings.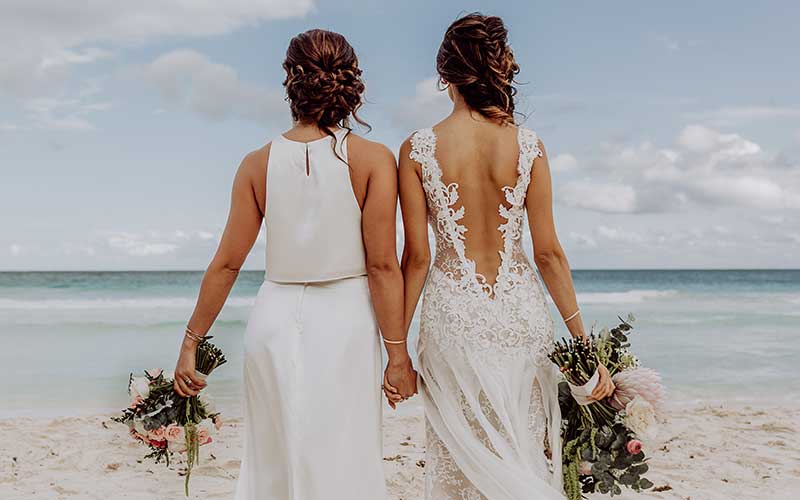 Pros:
– The last two weeks of July are perfect for a midweek wedding as it's the school summer holidays so more of your guests should be able to attend.
– July is the best time of year for an outdoor wedding thanks to warmer weather, less rain, and that summer feel in the air
– Fantastic wedding photographs. July is the best month to get married if you want sun and warmth in your memories.
Cons:
– July is a high season month so you're looking at higher prices. Wedding venue and supplier availability may also be restricted.
---
AUGUST – SUMMER WEDDINGS CONTINUE
When you picture an English summer you probably think of bunting, cakes, marquees, and plentiful fun. That's exactly what you can include at your wedding if you get married in August.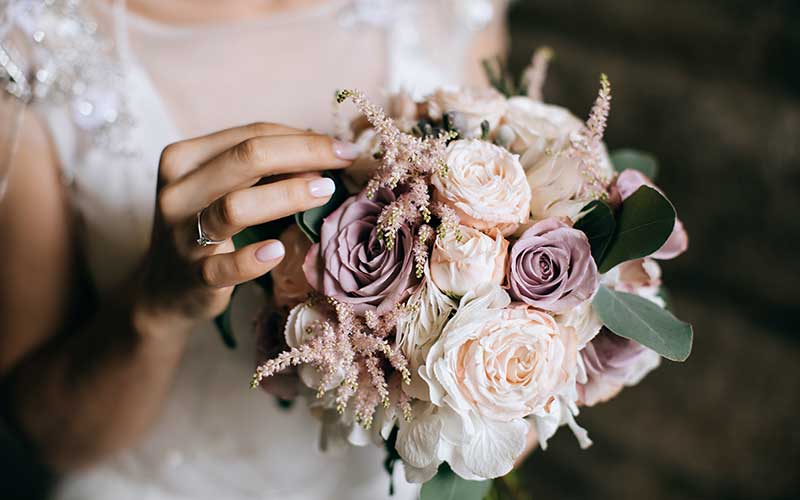 Pros:
– Children are still off school so this is a good time for families to attend a wedding and not have to worry about getting up early the next day!
– There's typically great weather in August, so you can enjoy fantastic photo opportunities and that traditional summer wedding vibe
– It's summer! Everyone is in a good mood and that adds extra fun to your wedding day.
Cons:
– Some of your guests are likely to be away on their holidays so may not be able to make your big day
---
SEPTEMBER – AUTUMN SIGNALS BEAUTIFUL SCENERY
The start of September is still considered summer and the temperatures are wonderful, but there is that autumn chill during the evenings.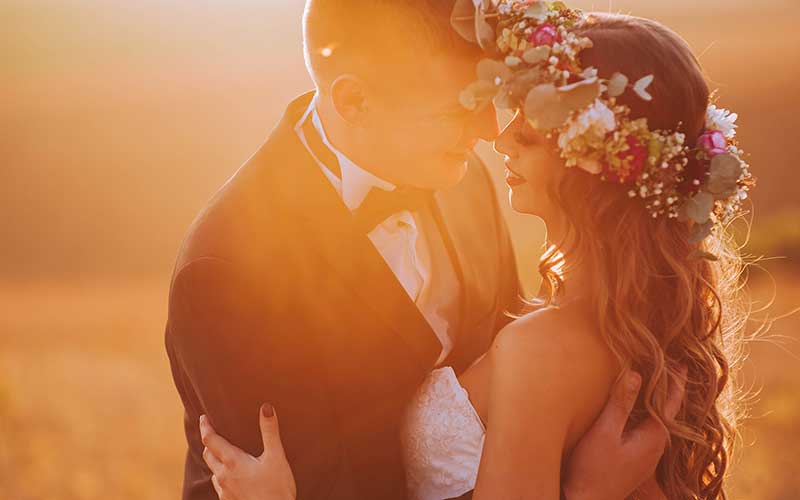 Pros:
– Softer lighting in September due to the lower sun is a major perk for your wedding photos. And changing autumnal colours will look beautiful.
– Peak season is over now so you have slightly lower prices and ease of availability, especially if you choose the end of September for your wedding day
– Lower temperatures means a more comfortable wedding day, especially if you want to take photographs outdoors
Cons:
– September, especially the start, could mean guest availability problems as children begin school once more and some people jet off before the end of the summer holidays
---
OCTOBER – HOW ABOUT A THEMED WEDDING?
It's spooky season, the best month for a themed wedding!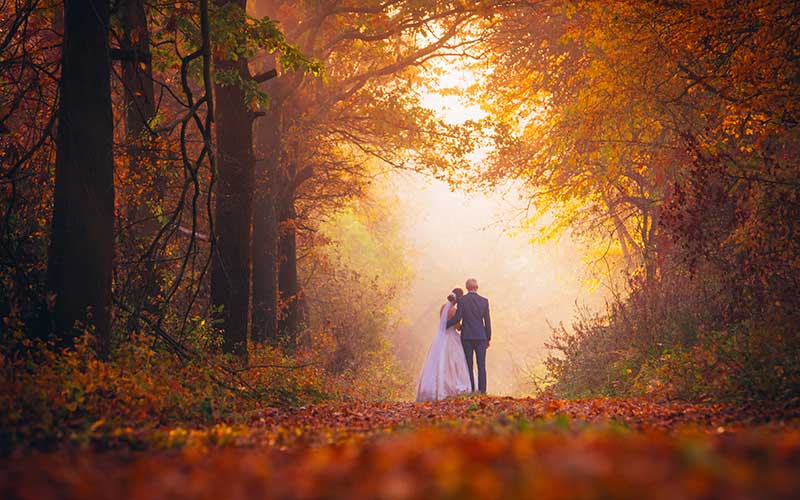 Pros:
– October is the best month to get married if you're a huge fan of autumn as the photographs will be simply stunning with all the reds and oranges
– October is officially off-season and that means lower prices and better availability of suppliers and wedding venues
– You can opt for a Halloween-themed wedding! This isn't for everyone but it's an option for those who want to do something a little different with their big day
Cons:
– When October rolls around, we're back to the changeable weather. Your wedding will probably have to be held indoors.
---
NOVEMBER – FIREWORKS AND SPARKLERS TO LIGHT UP THE NIGHT
November is the month of Bonfire Night, when everyone goes firework crazy. That cosy feeling is in the air and the anticipation of the festive season isn't too far away.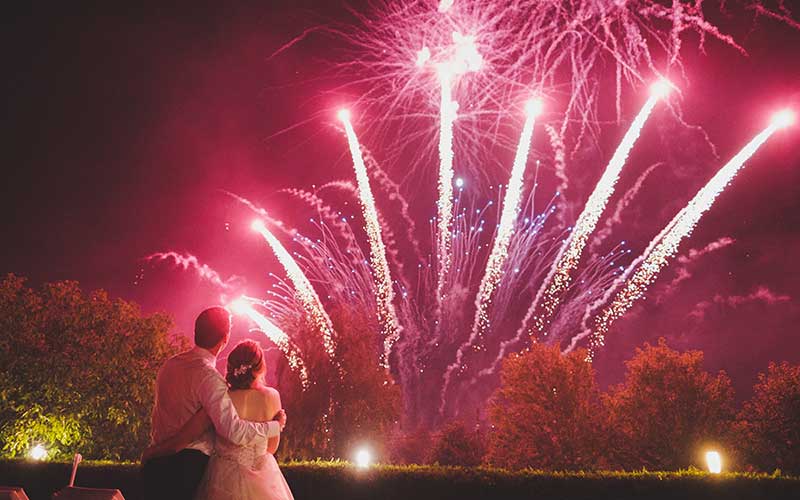 Pros:
– At the end of November your venue may have their Christmas decorations up, so you'll get a festive wedding without paying the high December prices
– You have the opportunity to get married on Bonfire Night and that means a good choice for a themed wedding – again, not for everyone but the idea is there!
– November is another great month for autumn colour
Cons:
– November isn't known for its light and warmth, so that means your evening party will need to be indoors. But again, that could be a perk if you want a cosy wedding.
---
DECEMBER – COMBINING FESTIVITIES AND NUPTIALS
Who doesn't love December? The party season is upon us and everything is red, green and very glittery.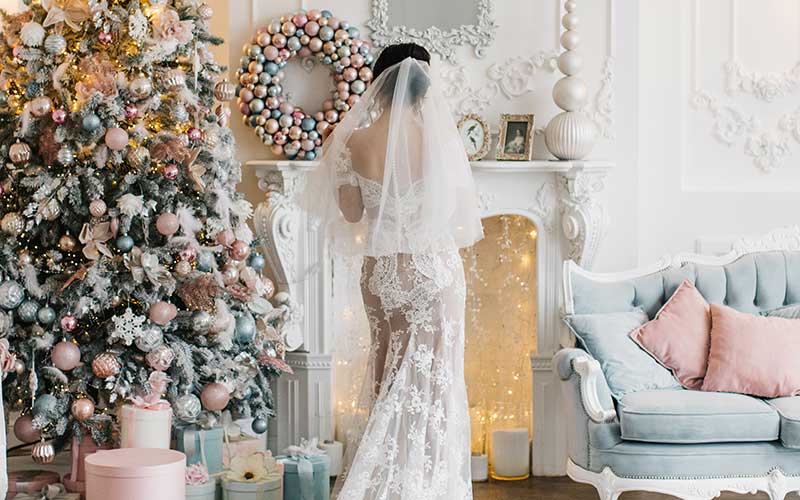 Pros:
– The party mood is already in the air and that could create the most magical and wonderful backdrop to your big day
– A Christmas theme is very popular. Or how about getting married on New Year's Eve!
– An anniversary at this time of year will always bring back wonderful, warming memories of your big day
Cons:
– December is one of the most expensive months to get married in the UK. You will probably struggle for wedding venue availability as many venues are booked out for Christmas parties.
---
A FEW MORE THINGS TO CONSIDER…
So, when is the best time of year to get married? Whenever you choose to do so! There's no right or wrong answer here, only what feels right for the two of you. Here's a few more things to consider:
– Meaningful dates – Sit down with your partner and work out whether there are any meaningful dates you want to choose. How about the date you met? Take a look at our article on how to choose your wedding date.
– Your budget – Unless you're a millionaire, you're going to need to stick to a budget. What month can you actually afford to get married in?
– Wedding venue availability – The month may be dictated to you by the availability of suppliers and wedding venues you have your hearts set on
– Friends and family – Can your nearest and dearest make it?
---
WHY NOT CHOOSE THE CONNAUGHT HOTEL AND SPA?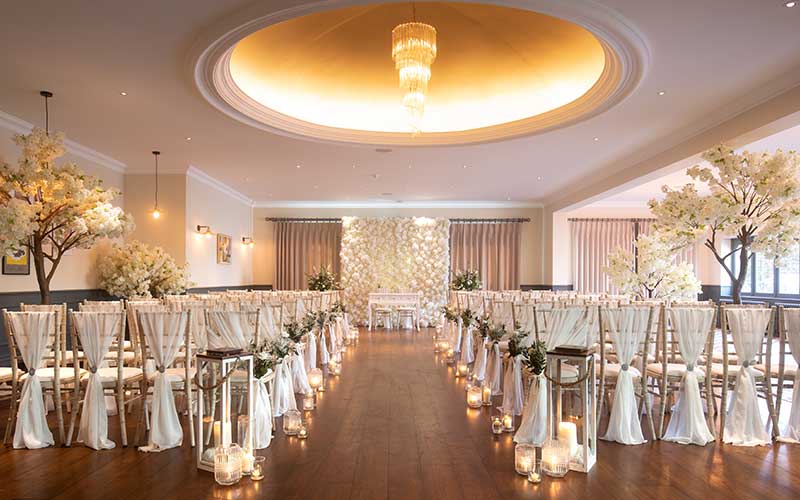 After deciding what month you'd like to get married, the fun can really begin as you start to look seriously at wedding venues.
The Connaught Hotel and Spa is a stunning 19th century hotel in Bournemouth. We can accommodate weddings for up to 130 guests and we're one of the few wedding venues in Bournemouth that is licensed for both indoor and outdoor ceremonies.
---
LET US TAKE YOU ON A TOUR…
Watch our wedding video to see what can be achieved at The Connaught Hotel and Spa Bournemouth with the help of some of our preferred suppliers.