Is there anything more sumptuous than an afternoon tea? It looks the part, that's for sure!
Cakes, sandwiches, tea, other treats, all served on adorable stacked presentation towers, with cute china cups and all the other regalia? It's a true treat! It's almost like going back in time to Victorian times and it's certainly still showing popularity today.
Thankfully, you don't have to be royalty to enjoy this treat these days, and whilst you're visiting The Connaught Hotel and Spa in Bournemouth, you can book in for a delicious afternoon tea to really make your holiday that extra bit special. Everyone's welcome, whether you're staying with us, a local resident or just visiting Bournemouth for the day.
We serve traditional afternoon tea, or you want something sparkly and alcoholic to go alongside your savoury and sweet treats, we've got you covered.
We certainly know what makes a good afternoon tea, so our expert pastry chef has put this guide together for you. As afternoon tea is such an institution, it pays to learn a little more about it. By doing that, you can truly enjoy the experience, as well as the delicious bursts of flavour on your taste buds!

---
What is afternoon tea?
Afternoon tea is a three course, light meal which consists of savouries, sweets and tea. Within it you'll have dainty sandwiches, usually with the crusts cut off, scones with clotted cream and a dollop of jam, other sweets, and a silver teapot full of steaming, hot tea.
Of course, the fun is in the presentation. Afternoon tea is always served on stacked platters and it's a real Insta-worthy moment!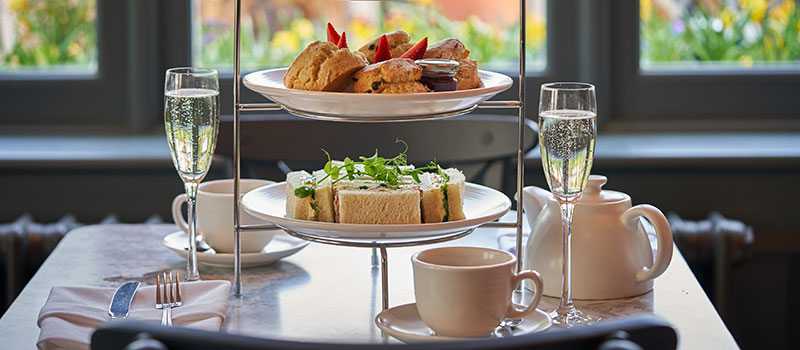 If you Google 'what is afternoon tea', you'll find a million and one rules about what you should and shouldn't do. For instance, you're supposed to raise your pinky finger when drinking the tea, and you're supposed to put cream on your scone in a certain way.
At our hotel, we're not about rules, so if you want to eat with your hands, do it. If you want to use your cutlery, do that too. If you want to hold your cup with both hands, we really don't mind! We're quite a relaxed bunch, we just want you to enjoy the experience in the way you feel best.
Over the years the afternoon tea ritual has changed a little and you'll now find alcohol served in some cases, but we'll talk more about that a little later on!
For now, you simply need to know that afternoon tea is a real treat and something which can take a boring, rainy day and turn it into a luxurious experience. Whether you want to sit out in the garden during the summer months, or in front of a roaring fire when the rain and wind is howling outside, enjoying an afternoon tea is the highlight of any day.

---
Who invented afternoon tea?
Afternoon tea is widely accredited to the Seventh Duchess of Bedford who began hosting afternoon teas with her high society friends.
If you're wondering 'where did afternoon tea originate'? It was as far back as the 1840s!
During the mid-afternoon, the duchess started to feel peckish, but it wasn't becoming of a woman of high society to eat a full meal at this time, so she sought out smaller dishes which would tide her over until dinner. At that time, dinner wasn't usually eaten until around 8pm, so the afternoon tea was born!
In order to stop her stomach rumbling for another four hours, the duchess started experimenting with small dishes; at first she tried small sandwiches, but she didn't like the crusts, so they were cut off. Then, she had a sweet tooth that she needed to satisfy, so next came the sweets. Of course, everything went with tea in those days.
After that, the duchess decided to invite her friends around to join her in her snacking, and over a short period of time, the afternoon ritual began to take shape. At this time however, afternoon tea was only enjoyed by women of high social standing, the wealthy elite.
Perhaps that's why even nowadays having an afternoon tea treat feels like something special, something that royalty would do. The way the afternoon tea is presented certainly still feels that way too.
So, if you were wondering how did afternoon tea start, now you know! It was all down to a peckish duchess.

---
What to wear to afternoon tea?
Afternoon tea generally has a smart/casual dress code. Every establishment that hosts afternoon tea will have their own rules, but at The Connaught Hotel and Spa Bournemouth, we don't specify; if you want to dress up smart, you can do so, but if you want to go casual, feel free – we don't mind!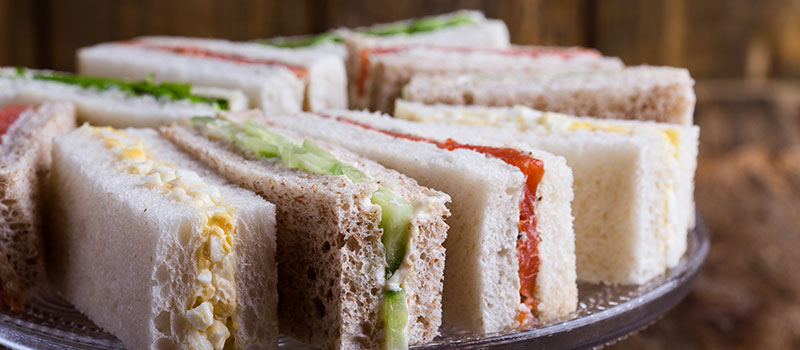 Many people wonder what to wear to an afternoon tea party and traditionally this has been a smart and glitzy affair. Back in the days when afternoon tea began, when the duchess was hosting her friends, the dress code was regal and demure, but that was the case with most gatherings at the time.
Put simply, what to wear for an afternoon tea has relaxed a lot over the years and it really comes down to whether you want to be traditional or you simply want to be comfortable.

---
How many calories in afternoon tea?
This really depends on what exactly is served, but on average there are around 1000-1500 calories in afternoon tea. If you add on extra butter or cream, the calories in afternoon tea can rise.
However, at The Connaught Hotel and Spa Bournemouth, we're all about enjoyment, so we say forget the calories for that afternoon and "let them eat cake!" in the words of Marie-Antoinette. Had she been around in the days of afternoon tea, we're sure she'd have enjoyed it too!

You can cut down on the amount of calories in afternoon tea in other ways; don't put so much sugar in your tea perhaps, or only have half the amount of cream on your scone. Just a few small adjustments will reduce the calorie count and you don't have to forgo any enjoyment.
The good news is that all portions in an afternoon tea are small and bite-sized, and portions are delivered according to the number of people booking a place. For that reason, you're unlikely to overindulge to the point of not being able to move.

---
How to serve afternoon tea properly
Afternoon tea is traditionally served in three courses, on three tiers of plates, with the table set in a specific way.
Afternoon tea includes a first course of savouries, with finger sandwiches and nibbles, followed by scones with jam and lashings of cream, and then small sweets, such as French fancies and cookies. Tea or another beverage is served throughout the afternoon tea experience.
It's worth mentioning that there are several different types of afternoon tea nowadays, and sometimes they're often grouped together into the same category. You'll also sometimes hear afternoon tea being called 'high tea', but it's generally one and the same.
What time is traditional afternoon tea served? We serve afternoon tea every day from 12pm until 5pm. The traditional time however, if you're following history, is around the 4pm mark. This is because when afternoon tea was created, people didn't used to eat dinner until around 8pm, and mid-afternoon was the time when people became a little peckish.
If you're wondering how to set a table for afternoon tea, you need to think regal and sophisticated. A tablecloth is required, to catch spills. From there, you need the following:
Small dessert place in the centre of each placement
Small fork to the left of the dessert plate
Small knife to the right of the dessert plate
Teacup with a saucer, placed to the right of the dessert plate – if you want to be strict, the handle needs to be at the 3 o'clock position
A teaspoon on the saucer, at the 10 o'clock position
A napkin next to the fork, so that the open side faces the plate
The teacup and the serving platter should be in the centre of the table
All of this stems back to the days of high society, when every need was catered for. In those days, you couldn't expect a society figure to reach too far for their knife and fork and if they needed a napkin, it had to be there and ready for them.
You could argue that they were a little lazy back in the day, but all of this makes for the real, authentic afternoon tea experience, even nowadays.

---
What is a typical afternoon tea menu?
A traditional afternoon tea menu includes:
Finger sandwiches of different varieties
Scones with butter
Cream and jam
A selection of small cakes and pastries
Tea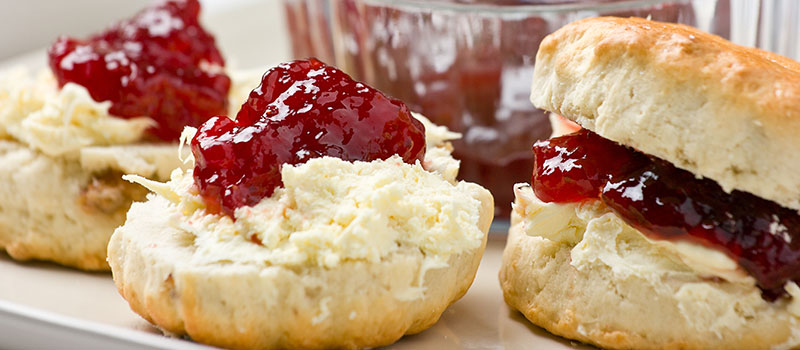 However, there are many different variations on the these nowadays – our Gin Afternoon Tea is one of our most popular afternoon teas! You could also add prosecco or champagne for a special occasion, and when you're on holiday, what's to stop you?
If you're thinking about hosting your own afternoon tea party and you're wondering what to include, you can really be as flexible as you like, whilst following the general theme. Provided there are three courses, one of which is savoury to start, you're still on the same lines.
You could think about crumpets, sausage rolls, perhaps Welsh rarebit or even Eccles cakes; you simply need to make sure that you're sticking within the traditional British recipe scope.
What cakes do you have for afternoon tea? Scones are the staple here, with butter, clotted cream and jam. After that, the usual fare includes French fancies, small cookies, macaroons, and small Victoria sponge bites. However, you can include anything you like provide it is small and bite-sized.
Despite the fact there is cutlery on the table setting, that doesn't mean you have to use it! The knife and fork are generally there for spreading the butter, jam and cream onto your scones.
The rest of the afternoon tea menu is designed to be eaten with your hands, so despite the fact that it's quite a posh and high society event throughout history, it's also quite down to Earth too. For that reason, everything on the menu is small and easy to pick up and bite.
---
Feeling peckish?
We have a feeling that after reading about all those delicious, buttery scones, cute and dainty sandwiches, with bubbles or tea included, you might have a rumbling stomach! If that's the case, an afternoon tea treat is certainly for you.
Here at The Connaught Hotel and Spa Bournemouth we serve afternoon tea every day from 12pm to 5pm, and we have several different variations on the theme. You can go authentic with delicious tea, or you can add some bubbles, with the prosecco or champagne option.
If you're a gin lover, certainly try our gin afternoon tea for size, and check out the 100 different types of gin served in our gin bar.
Why is afternoon tea so popular? Because it's a true experience and not just something rather delicious to eat when you're a little peckish before dinner! The tradition of eating afternoon tea has made it through history to the modern day and it's taking on a brand new lease of life with various establishments all putting their own twist on the model.